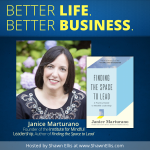 Janice Marturano is the Founder and Executive Director of the Institute for Mindful Leadership, a non-profit organization dedicated to training and supporting leaders in the exploration of mindfulness and leadership excellence.
Since 2006, she has brought her mindful leadership retreats and workshops to organizational leaders and employees from around the world, most recently teaching a capacity crowd at the World Economic Forum in Davos, Switzerland.
Prior to founding the Institute for Mindful Leadership, she worked for 15 years as Vice President, Public Responsibility and Deputy General Counsel for General Mills, Inc.
In today's episode of the Better Life>>Better Business podcast, Janice talks with Shawn about her brand new book, Finding the Space to Lead: A Practical Guide to Mindful Leadership — keep reading for a chance to win a FREE copy for yourself! — and why it's critical for all leaders (and we're all leaders) to find some space in order to lead with clarity, calm and confidence.
Watch or listen below and you'll also discover:
Why the demands of work and live today have us living in a state of "continuous partial attention" — and how to break out of it
How to meet the challenges of the day with your best self — rather than a "default reaction"
Why mindfulness is not only about stress reduction — it's a path to leadership excellence
Four fundamentals of leadership excellence
Why Shawn was initially scared of meditation (turns out meditation is not what you think)
How you can find some space in your life and work TODAY with "purposeful pauses"
Watch:
[leadplayer_vid id="52E145520B12E"]
Listen:
Download:
Subscribe:
If you have enjoyed this podcast, please rate us and subscribe on iTunes.
For additional reference:
Get a FREE Copy of Finding the Space to Lead: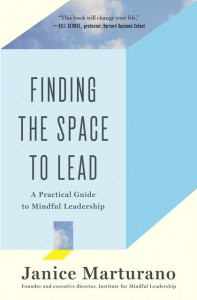 Janice's publisher, Bloomsbury Press, has graciously donated five copies of Finding the Space to Lead for us to share with our audience. Want one? We'll select the recipients from a random drawing on February 1, 2014. Here's how to enter:
Click below to share this post on your social network of choice.
Enter your name and email when the form appears so we can notify you after the drawing is complete. *** NOTE: Refresh your page if the form doesn't appear after sharing the page. ***
We will accept entries until 11:00pm Central time on Friday, January 31.
[pwal id="59499102″ description="STEP 1. Like or share this post on your social network of choice!"]
Thank you for sharing! Enter your name and email to complete your registration:
[gravityform id="3″ name="Janice Marturano Book Giveaway" title="false" description="false"]
[/pwal]