Last week I asked, "What do you love?"
With some help from Marcus Buckingham (from his new book, Love + Work), we also learned how to read a few signs to discover—or remember—what we love: instinct (have to do it), flow (fully present), and rapid learning (it comes rather easily to you).
This week, I want to revisit the topic of love… but with a little help from Garth Brooks.
In the end, we'll see if you can cultivate the feeling of more love in your life without even having to ask, "what do you love?"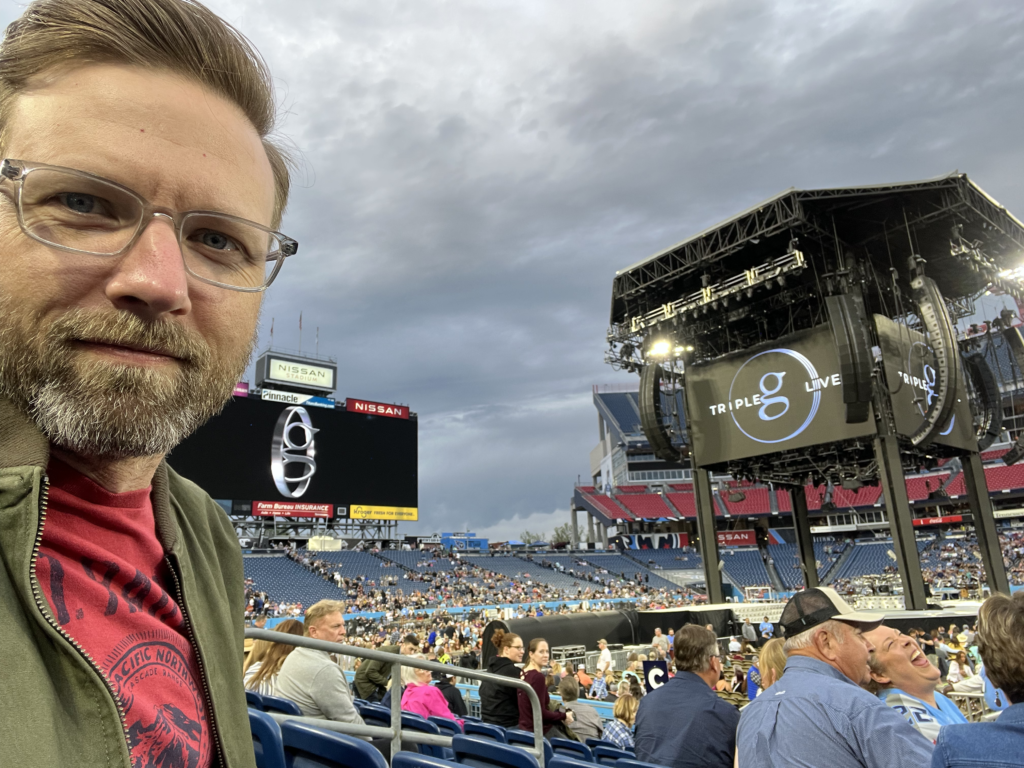 A few weeks ago, it hit me that "I need to inject more fun into my life."
I love the work I do, which I'm very grateful for—because for years, I didn't—but that can also be a trap, in that I'm often tempted to substitute work for purely having fun.
I shared this with my therapist and that very week I saw an article in the New York Times titled "Why We All Need to Have More Fun." So, I guess I'm not the only one. That, or technology is spying on me. Or both.
In the article, Catherine Price, author of a new book, The Power of Fun: How to Feel Alive Again, says that true fun happens at the intersection of playfulness, connection, and flow. (Notice the crossover between love and fun?!)
Ah, yes, I thought. Playfulness is what's missing. And, to an extent, connection. Us introverts forget about the power of that one sometimes.
A few days later, Garth Brooks announced that he was adding a second show here in Nashville. Tickets would go on sale that Friday, and the show would be two weeks later.
There's my chance to have fun! I'm going!
For one thing, I love live music. (Maybe you've heard me share the story of moving to Nashville when I was 17 to pursue a career in music.)
Also, while I've seen Garth play an acoustic concert before, I've always wanted to see the "full production"—and he's currently touring stadiums, so I knew it would be big.
Sounds like fun to me!
I was initially going to buy two tickets and take my son or a friend, but there was a glitch with getting tickets the first time around and by the time I got back in, I decided I would just buy one ticket—this was going to be a gift to myself. (Sometimes you have to do that, you know.)
Friday night, April 15, was going to be a good Friday indeed…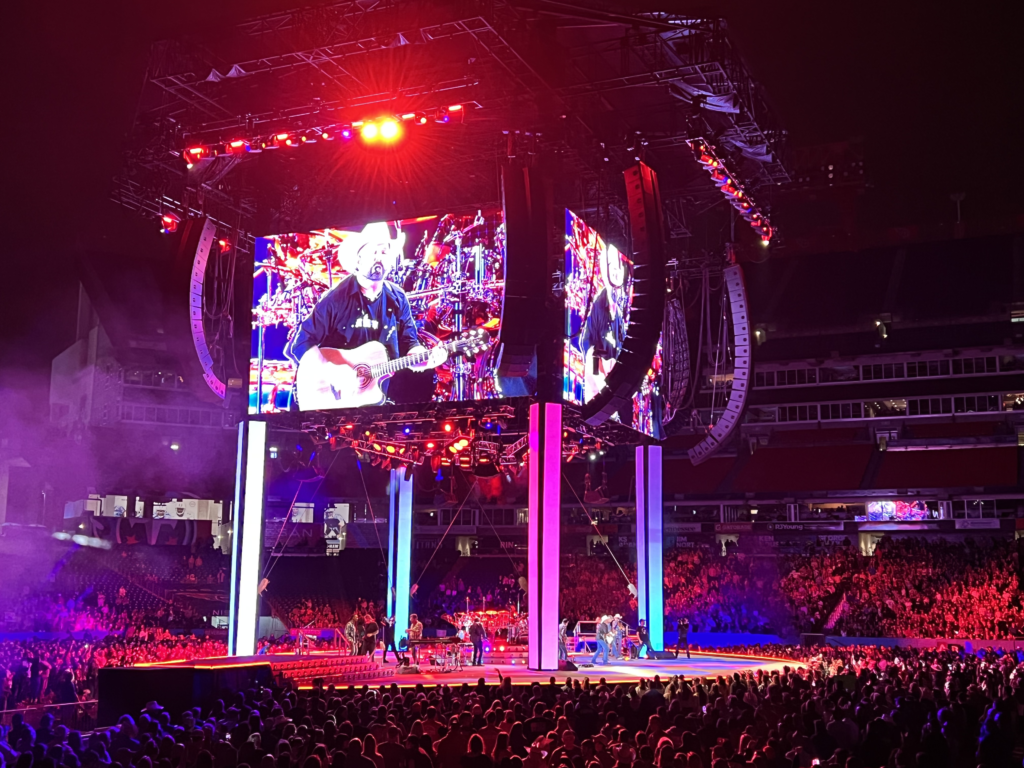 I had mentioned to my therapist that I was going alone, so the only thing missing from the official "fun formula" was connection. He reminded me that I would be with thousands of other people, though, so there would be connection.
And, he was right…
Sitting next to me was a self-proclaimed Garth superfan. This was one of those people who, I'm pretty sure, finds a friend everywhere she goes.
Before the concert started, I had learned that this was her 8th time to see Garth, going back to 1992, and she was there with her husband ("this is the 4th one I've dragged him to") and her 11-year-old son who was about to have his first Garth experience (like me).
It turns out, there were two shows going on that night: one was Garth and the band on stage. The other was this woman, who was on top of the world all night long. It was a hoot to see how much she loved Garth.
Toward the end, she was yelling for him to play his song, "Standing Outside the Fire."
"Of course tonight I don't have my sign!" she said. (Apparently it's a thing at Garth concerts to bring a sign with your song request.)
For three or four songs, when he would finish, she would again yell, "Standing Outside the Fire!!!"
"I've never seen him play it live," she told me.
When the band started what would be the final song of the night, she started saying, "Oh my god! Oh my god!" I had an idea of what was happening, and sure enough, there was her song: "Standing Outside the Fire."
I was so thrilled for her!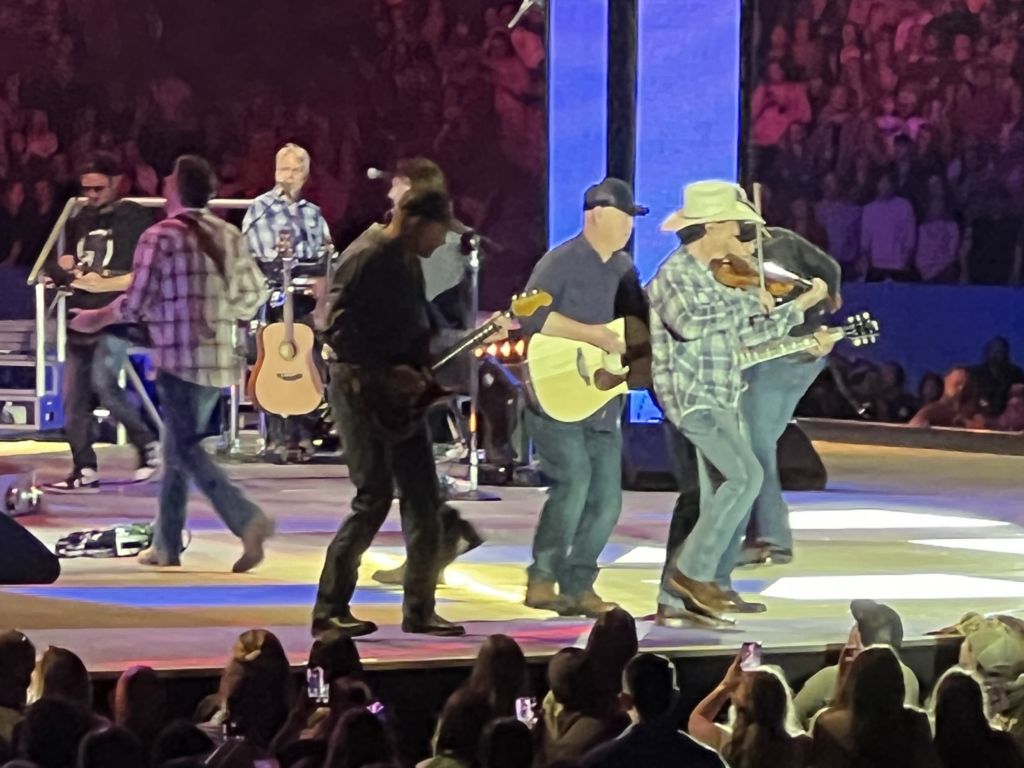 But let me get back to Garth…
You should know that this particular concert—and the one that would be played at the stadium again the next night—were make-up shows after the original concert was rained out last summer.
I had heard about this on the news. I had thought about going to that one but I didn't get tickets. As it turned out, there was a big storm in Nashville that night and after the concert got started with a couple of opening acts, everyone had to take cover from lightning for 90 minutes before they ultimately called off the show.
So in other words, there was something a little extra special about these Nashville shows this time around.
Garth said after the first song on Friday night that he had never been so devastated at a show as he was last summer, leaving all those people there, and he said, "Tonight's gonna be all about gratitude."
Sure enough, it was.
This is what blew me away about the Garth show, and what I will never forget…
At the end of the next song or the one after, as the crowd was going wild with applause, Garth said, "I love my life!"
He said it with heart and gratitude, though—not as a boast. Like, this is unbelievable.
Over the course of the evening, it was clear that he was in awe of the entire experience.
He was there to perform, but he was clearly experiencing a show himself.
Garth does a Facebook Live every Monday night called "Inside Studio G" which I've never watched, but I accidentally came upon it last night and heard him gushing over the Nashville shows—just demonstrating even more of what I saw at the concert.
At one point, he shared a picture of the Saturday night show, looking down on the stage from the upper deck of the stadium, and he said, "You notice, I'm just a small part of this picture. That's not one man that makes that happen. That's the band and crew and 70,000 people."
Here's what Garth showed me over the course of that evening:
He showed me what it looks like to love what you do.
He showed me what it looks like to be overflowing with gratitude.
He showed me what it looks like to be in awe of the moment.
He showed me what it looks like to be humble, even when you're the one in the spotlight.
You can go watch the replay of his Facebook Live from last night and you'll pick up the same energy I'm talking about.
And here's the thing: by watching Garth demonstrate all these qualities—love, gratitude, awe, humility—I felt all those things myself, and I left inspired to tap into them even more in my life and work moving forward.
But this isn't about Garth or me—or the superfan! This is about you. This is about all of us.
It would be very easy to dismiss all of this and say, "Sure, that would all be easy if you're Garth Brooks. Living his life. With his money. With a stadium full of people screaming your name."
But, would it?
Or, is he "Garth Brooks" because that's how he approached his life and business from the very beginning?
I haven't been there each step of the way, so I can't say for sure. But, I did hear him introduce his band members and talk about how some had been with him since 1988, some since 1992, and only one or two came on the scene later than 1997 or so. These are the band members. The men and women whose names aren't on the tickets. Who don't get all the glory. And yet they've stayed with him all these years? That doesn't happen if the person you're working for doesn't treat you very well. So, that tells me something.
What if you and I could fall a little bit more in love with our lives and work today?
What if you and I could be a little more grateful—even for the smallest things?
What if you and I could be a little more in awe of it all? (I mean, have you thought about how we're casually going about our business while we're hurling around the sun at 67,000 mph?)
What if you and I could remember that we're each a really tiny part of the bigger picture?
Would this change the quality of your life?
Would it change the quality of life for those around you?
Would it change your workplace?
Of course it would–and speaking to that very thing, I just came across a new Harvard Business Review article last night that's co-authored by one of my colleagues, titled "The Best Leaders Have a Contagious Positive Energy."
I certainly caught Garth's energy.
I hope I've been able to pass a little bit of it along to you today.
And I hope you'll spread it to someone else.
Up we go—
Shawn