Do you ever feel like life is moving too fast? Like there's just too much to do and never enough time to do it? Do you ever wish things would slow down… for a minute?!
(Who doesn't, right?)
In a recent survey of 5,000 households, 63 percent of people said they have high levels of stress at work, they're extremely fatigued, and they feel out of control.
Thirty-nine percent blame workload as the primary cause of their stress.
No wonder employee burnout is on the rise.
Clearly we have a problem. But, what's the solution?
That's a question I was asking not too long ago, because like those surveyed, I was exhausted and felt out of control.
Between leading our business through the worst financial crisis since the Great Depression, navigating life with my wife's chronic illness and adjusting to life as a new dad, my stress level escalated to the point I thought I was going to crumble under the pressure.
Life and work just weren't much fun.
Can you relate? We all have our "stuff" to deal with.
Then there are the demands of having to do more with less, trying to keep up in a rapidly-changing marketplace, distractions coming at us from every direction…
Do you have a smartphone? Thanks to these wonderful little devices in our pockets and purses, multiple social networks, text messages, email, the internet — and oh yeah, phone calls — are constantly begging for our attention.
We live in an age where we're always in and always on.
Life is moving fast and it's getting faster.
Business is complicated and it's only going to get more complicated.
How in the world can we keep up with it all?
At first you think, "Life's moving fast; I just need to learn how to do more, faster." But if you're feeling frantic now, can you imagine trying to go even faster, year after year after year?!
As contrary as it may sound, the only way to keep up is by slowing down. By taking things one moment at a time.
It seems so simple, but over 30 years of research and thousands of case studies in the fields of mindfulness, neuroscience and psychology show us that as we learn to be more present and more engaged in this moment, we find benefits like reduced stress, more clarity of mind, more energy, more happiness, and the list goes on.
It's so powerful that companies like Apple, Google, Procter & Gamble, General Mills, Bose, Aetna and many more have implemented mindfulness training programs to help their people cultivate present moment awareness.
Think about it: This moment matters because everything happens in this moment. Life happens in this moment.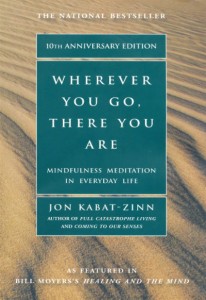 As Jon Kabat-Zinn, author of Wherever You Go, There You Are, says, "Each moment missed is a moment unlived."
So how can we be more present for more of the moments?
I like this mantra: "Be here now, be somewhere else later."
When things are moving too fast, when the demands are overwhelming, pause and breathe. You don't have to get it all done right now. (That's not even possible.) Align with your values, goals and priorities and ask, "What is the right thing, right now?" Whatever it is, give that your full attention and energy.
Single tasking, not multitasking, is the key to less stress and higher performance.
When you're facing adversity and a moment that may not be the most desirable, remember that "it is what it is, while it is." Everything is temporary. And while you can't control what has happened, you can control how you respond to this moment and these circumstances.
You are never powerless. Challenges give us an opportunity to rise up.
You don't have to wait for "someday" when you get "somewhere else" to enjoy a better life, better business or better career. (Besides, what if, as the wise philosopher Garth Brooks said, "tomorrow never comes"?) Instead, make it your intention to see the best and give your best right here, right now, in this moment.
Life is an accumulation of moments such as this, each fitting together to create a grand mosaic. (Every moment doesn't have to be perfect for it to be beautiful, by the way.)
No matter what has happened in the past — good or bad — a new moment is certain to arrive… right… now. What will you do with it?
The choice is yours, and change happens the instant you decide…
This Moment Matters.