Resilience Strategist and Keynote Speaker Shawn Ellis is Empowering High-Performance Leaders to Thrive in the Face of Change and Adversity by Going Beyond Resilience with "The Reboot Roadmap: Four Steps to Come Back Better Than EVER."
Over 20 years of experience in leadership, entrepreneurship, and collaboration with the world's top thought leaders
With more than 20 years of experience in leadership, entrepreneurship, and collaboration with the world's top thought leaders, keynote speaker Shawn Ellis is championing a new era of resilient leadership that can adapt, evolve, and emerge stronger from adversity. His transformative framework, The Reboot Roadmap, enables individuals and organizations to not just survive challenges, but to go Beyond Resilience and thrive, returning stronger and more effective than ever before in a deeply fulfilling, human-centric work environment.
RESILIENCE KEYNOTE SPEAKER Shawn Ellis' one-of-a-kind journey began when he moved to Nashville at the age of 17 to pursue a career in music. Although his dreams of being on stage with a band didn't quite go according to plan, Shawn soon discovered his true passion at the intersection of life and work. Writing a college paper on the power of intrinsic motivation in the workplace led him to change course and ignited a lifelong commitment to helping organizations create better environments for their employees and fostering more fulfilling work experiences.
Today, Shawn is an internationally recognized expert, advisor, and top-rated resilience keynote speaker on change management, cultivating resilience, leadership, and overcoming adversity. Known for his authenticity, humor, engaging storytelling, and unique perspectives on leadership and personal development, he often jokes about how he now tours with PowerPoint rather than a band—yet he still has the same goal as a speaker that he did as a musician: to leave audience members feeling better than they did when they arrived.
As a resilience keynote speaker, Shawn's research, case studies, and thought leadership focus on inspiring audiences while providing actionable strategies to drive meaningful outcomes for individuals and their organizations. Shawn also coaches high-performing leaders with practical, life-tested ideas, concepts, and frameworks to elevate their impact and create lasting legacies as they define the future of leadership and resilience in their organizations.
Over more than a decade as a keynote speaker, Shawn has shared his insights with thousands of business leaders around the globe, for leading organizations including CMT, Bridgestone, Freddie Mac, Grand Cayman Civil Services, and Dippin' Dots, among others.
In addition to speaking, Shawn is the founder and CEO of The Speakers Group, a boutique consulting firm that connects organizations with the world's most inspiring speakers and thought leaders.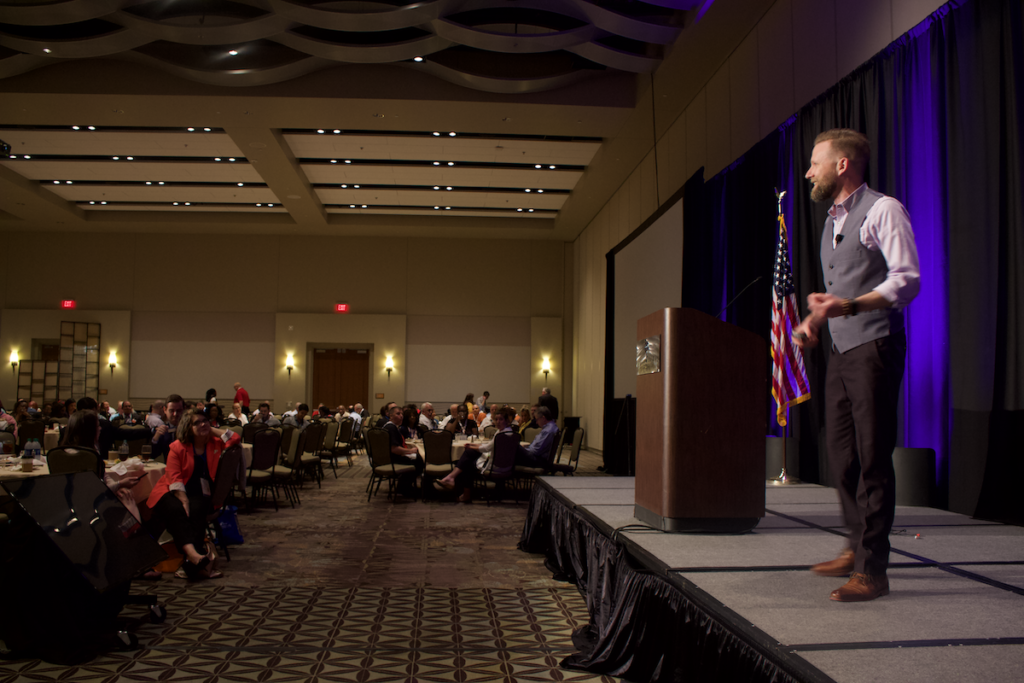 Every solution offered is tailored to the unique needs and objectives of that client, to ensure lasting results and maximum return on investment.
"I cannot say enough good things about his presentation. Shawn was charming, very sensitive to the needs of our group and found very creative ways to weave in some of the touch points we had discussed beforehand. Shawn found a way to add humor to topics that had previously been tense. He was excellent!"
Cancer Institute Manager, Bayhealth
"Interactive, customized, and just what we needed to kick off our sales meeting!"
General Manager, United Insurance Group
"From the initial booking to his presentation to our district, Shawn Ellis was exceptional! Shawn spoke to our employees from the heart and in a manner that was unique for us. He goes above and beyond to learn about the employees, filter his presentation, and read the audience in order to pace his message for the greatest impact. We were all energized and focused after our time with him."
Superintendent, New Milford Public Schools
Unlock the secrets of growth mindset, emotional intelligence, stress management, and self-improvement to elevate your leadership, team, and culture.